​
Basic Features

| | |
| --- | --- |
|   |   |
| Function: | Cooling |
|   |   |
| BTU/hr: | 12000 |
|   |   |
| Cooling Capacity (watts): | 3550 |
|   |   |
| COP: | 3 |
|   |   |
| Rated Input Power (Watts): | 1180 |
|   |   |
| Power Supply (phase/voltage (V) /frequency (Hz) /current (A)): | single/ 220-240/ 50/ 5.265 |
|   |   |
| Air Circulation (m3/h): | 650 |
Cooling Features

| | |
| --- | --- |
|   |   |
| Compressor Type: | Rotary (Fixed Speed) |
|   |   |
| Refrigerant Type: | R-22 |
|   |   |
| Refrigerant Amount (kg): | 0.62 |
|   |   |
| Outdoor Operating Range (outdoor temperature): | 200C – 430C |
|   |   |
| Indoor Fin Type: | Louver Fin |
|   |   |
| Outdoor Fin Type | Slit Fin |
|   |   |
| Maximum Pipe Length: | 5m |
Operations

 
 

Modes

Turbo Mode (Maximum Cooling):

Yes

 
 

Auto Operation:

Yes

 
 

Dry Mode:

Yes

 
 

Fan Mode:

Yes

 
 

Speed Setting:

Yes (Auto, High, Medium, Low)

 
 

Auto Restart

Yes

 
 

Comfort Cooling

Yes

 
 

Timer

Yes

 
 

Sleep

Yes
Air Deflection

| | |
| --- | --- |
|   |   |
| Auto UP-Down Swing: | Yes |
|   |   |
| Auto Left-Right Swing: | Yes |
Remote Control

| | |
| --- | --- |
|   |   |
| Display Type: | LCD |
|   |   |
| Operation/Control: | Via IR (Infrared Ray) |
|   |   |
| Child Lock: | Yes |
|   |   |
| Temperature Unit Change: | Yes (16​0C to 310F) |
Dimensions

 
 

Indoor (mm) [LXWXH]:

Unit: 800x253x224

Packing: 820X300X270

 
 

Outdoor (mm) [LXWXH]:

Unit: 722x280x553

Packing: 820X360X625
Weights

| | |
| --- | --- |
|   |   |
| Net Weight (Indoor) (Kg): | 8.03 |
|   |   |
| Gross Weight (Indoor) (Kg): | 9.57 |
|   |   |
| Net Weight (Outdoor) (Kg): | 32.66 |
|   |   |
| Gross Weight (outdoor) (Kg): | 35.26 |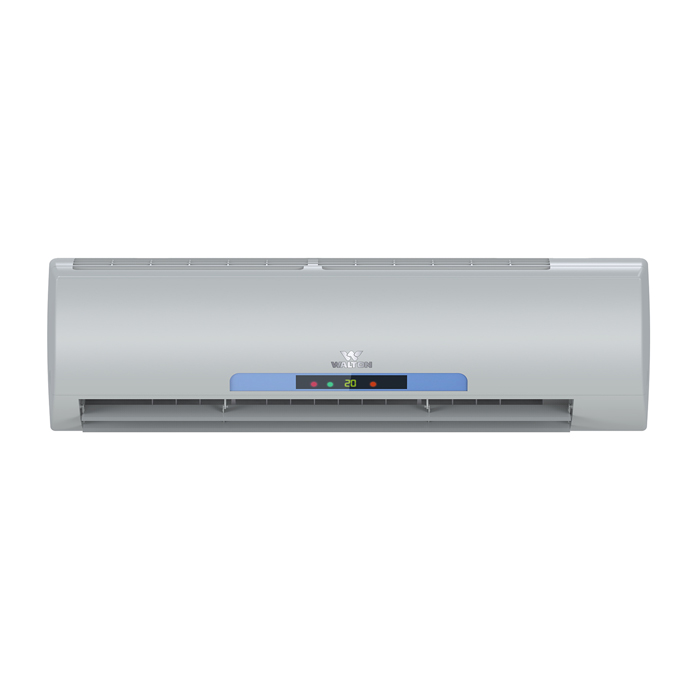 Pre-Order Option Currently Unavailable
Warranty Information:

Residential Use:
Compressor Warranty: 5 Years
Spare Parts support: 3 Years
After Sales Service: 1 Year Free


Commercial Use:
Compressor Warranty: 2 Years
Spare Parts support: 2 Years
After Sales Service: 1 Year Free
Terms & Condition :
1. This warranty does not cover the following cases -
i) Any damage due to accident, electrical fault, natural causes, negligence or improper installation.
ii) Any damage or failure caused by unauthorized modification or alteration.
iii) Products with original serial numbers that have been removed, distorted or cannot be readily recognized.
2. This warranty covers only manufacturing defects in products & workmanship, subject to verification by company personnel.
3. Authority keeps the right to change, extend, correct, stop or cancel the warranty period without any prior notice.
User Manual
English User Manual
Bangla User Manual
Smart Control App User Manual
​
Functions Of Remote Controller
​

The Above User Manuals Discuss About The Below Contents-

Available Models, Safety, Useful Efficacy and Saving Electricity, Parts Identification, Connecting & Installing Indoor and Outdoor Unit, Cleaning and Precautions, Functions of Remote Controller, Function of Special Features, Actions to Be Done Before Repair and etc...

Note: Smart Control App User Manual Is Only Applicable For Smart AC.