Stay Home & Stay Safe. Due to the Covid-19 issue, we are receiving orders through online but our delivery process will be remain close in this crisis situation. At the moment of this situation get under control, we will start the delivery of your ordered products. Requesting your cooperation until the situation gets under control. Thank You.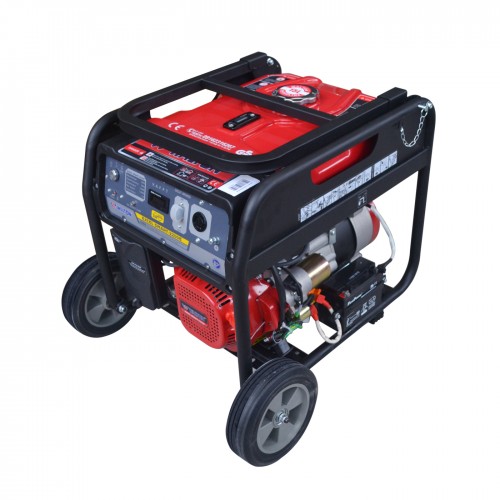 Excel Smart 2200E
- Type / Model: Gasoline Generator, 6.5HP
- Starting System: Recoil Start + E-start
- Engine: 4-Stroke
- Fuel Tank Capacity: 15L
- Continuing time: 8 hours
-
Heavy duty new frame with trolley kits
​
Ignition :

Ignition Mode

Transistorized Magneto

Fuel :

Fuel Option

Petrol/Octane

Time :

8 Hours

Continuously at rated load

Battery :

Battery rating

12 Volt, 9 Ah

Dimensions :

Width (MM)

470mm

Height (MM)

520mm

Engine :

Engine Type

Single cylinder; 4-stroke gasoline engine

Gasoline Generator, 6.5HP

Engine oil capacity

0.5 L

Cooling system

Air cooling

Shaft position

Horizontal shaft

Load Capacity :

Capacity Output (Maximum)

2200 Watt

Frequency :

Voltage :

Speed :

Speed per miniute

3000 RPM
Pre-Order Option Currently Unavailable
Warranty Information:
- Engine: 1 Year
- Engine Spare Parts:1 Year
- After Sales Service:1 Year

Out of Warranty:
All plastic, rubber, electric & electronics parts & hardware items like battery, fuse, plug, wiring all types of cable, remote, self motor, AVR/capacitor, carbon, ignition switch auto relay, roter armicher, ignition coil, rectifier, auto circuit braker, fuel alert indicator and so on.
Note: This warranty does not cover any damage due to accident, electricity fault, natural causes or negligence. And Authority keeps the power to change, expend, correction, stop or cancel the warranty period without any prior notice.
Payment Method
Copyright © 2020 and all rights reserved by - All Sister Concerns of WALTON Group